In the middle of the night last week I stumbled upon some Twitter conversations about self-care and how it can really be indulgent and extravagant.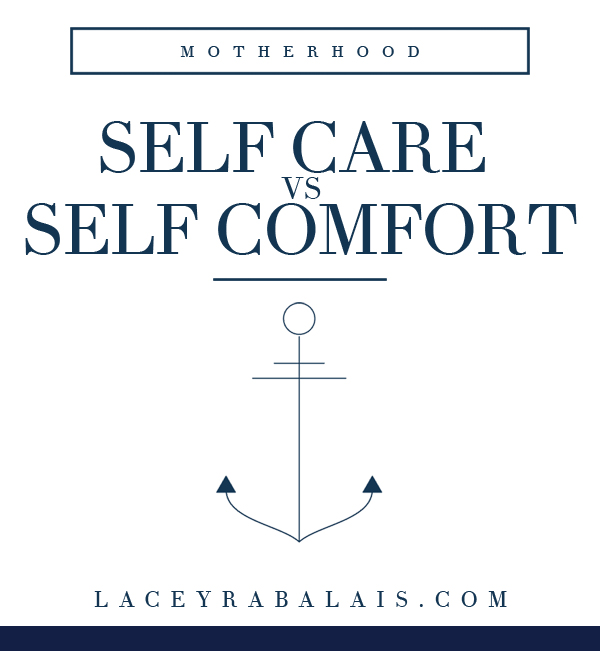 Care can be defined as "the provision of what is necessary for the health, welfare, maintenance, and protection of someone or something; serious attention or consideration applied to doing something correctly or to avoid damage or risk."
Comfort is defined as "a state of physical ease and freedom from pain or constraint; the easing or alleviation of a person's feelings of grief or distress."
After some reading, I found this topic very convicting and it really seems like an important thing for us to consider. In this world of motherhood how do we comb through the differences of care vs comfort?
Self care is something that I've told myself I'd focus on this year. Before now, my "care" was truly more of comfort; Time alone at Target, a hot bath, comfort food, etc. This year…the care looks a lot different. What is different?
First off, let me say these are my own convictions. You do you.
While I would still love to roam the aisles of Target alone with a coffee in hand, I'm trying to refrain to focus on other important things. Not just a break, but true care. A break might help for a moment, but it won't be beneficially for me in the long run. I recently hear Jen Wilkin during a podcasts say, "Parent with the end in mind!" Wow, mic drop!
With the end in mind, that means teaching my kids life skills and reasoning more than let's just make it through the day. With the end in mind, that means taking care of myself, mind, body, and soul, instead of mama needs a break. I want to be their mother for the long haul and I want to enjoy it every step of the way. I want to be present and active. I want to be loving and nurturing. I want to make myself a priority so that I can love and serve my family.
So what did I change? So far I've been to the ophthalmologist and gotten new glasses, including lenses specifically for computer/screen time. The dermatologist had a look over and discovered some moles that needed to be removed. One came back suspicious, so it was removed more. And then surgically. Seriously, I love my dermatologist but I'm really tired of seeing her. After an insane reaction to antibiotics, I ended up seeing my regular doctor which led to blood work. Everything is fine and I can't take certain antibiotics now, but that was the best results I could have asked for.
Other than the slew of doctors I've seen this year, there's other changes being made. Exercise. Like a program and a coach and accountability! What program…Beachbody workouts. A mix of 21 Day Fix and Country Heat. Food…..major changes here. Portion control, better options, and a lot of veggies. If you know me that's crazy! But I've learned that I like the tastes of different vegetables if they are fresh, not canned. The food is the hard part, especially when I live in Louisiana with a family that gathers around the table. I'm excited to continue to find better options. Beauty products & cleaning supplies. Seriously a whole blog post is coming about turning into a crunchy mom, but Beauty Counter along with other changes are rocking my world.
I know that I can't pour out and serve my family if I'm empty and drained and grasping to hold things together. So creating schedules and routines that allow for boundaries and margin are also really helping. Time for studying scripture, reading, sleeping. Those times are sacred. It's also important that we have time for our marriage. We don't have date nights because of some sleep issues. But since we've gotten our patio, every evening is filled with laughter and so much talking. We will do date nights again, this is just a season, right?!? Being a wife is important and I have to be able to do that well.
"Or do you not know that your body is a temple of the Holy Spirit within you, whom you have from God? You are not your own, for you were bought with a price. So glorify God in your body." – 1 Corinthians 6:19-20 ESV
I want to glorify God in everything I do. My body is His. He used me to create life! Isn't that crazy to think about? For His glory, for His purpose He used my body to create three tiny humans. The purpose of those 3, I'm not totally sure of. One of them surely brought my closer to God…I think a lot of moms feel that way about their miscarriages and losses. So….here's to 30 and a time in life where I make myself a priority so that I can make others a priority!