So this morning I got to speak to a group of moms at Mother to Mother. My topic….encouragement. And of course I'm going to share with you!
My love language is words. Written. Spoken. Either is fine. It makes it easy to be a cheerleader, especially for the ones I love. It also sometimes makes me need the Holy Spirit to muzzle me to prevent me from being too encouraging. Also known as pushy. 1 Thessalonians 5:11 says, "Therefore encourage one another and build one another up, just as you are doing." Webster defines encourage as "give support, confidence, or hope to someone."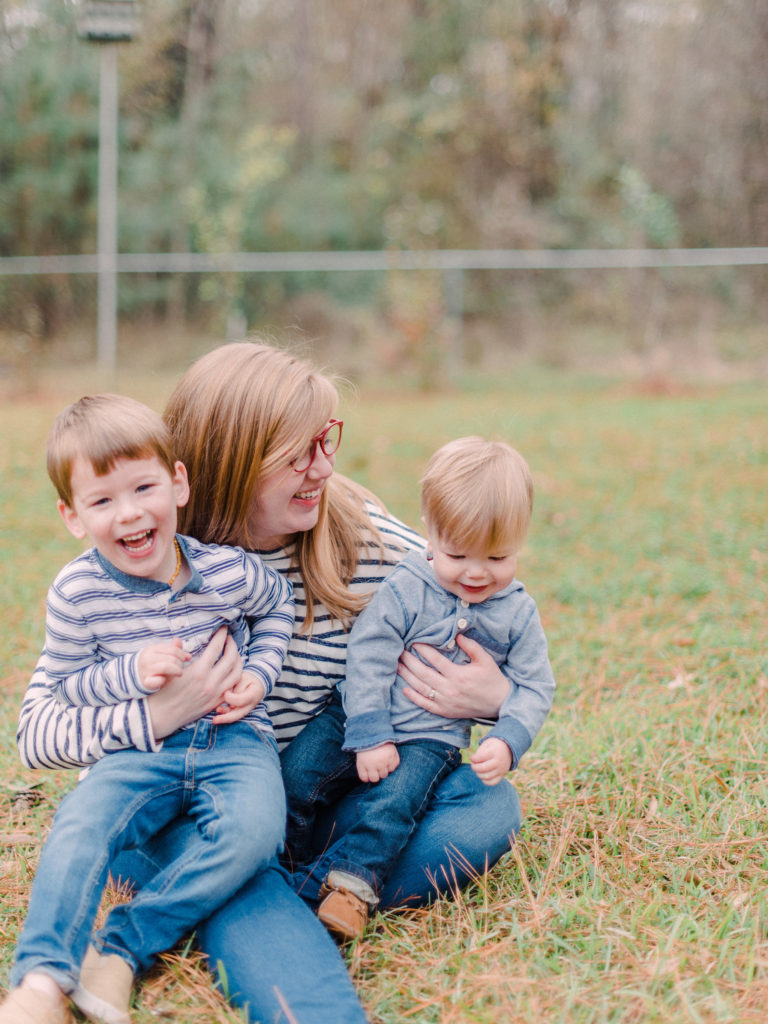 As a mom and wife it's our job to encourage. We have these little people that trust us to tell them what is safe or acceptable. Sometimes they're scared or confused and it's up to us to lead them and encourage them to make the right choice.
My oldest, he's almost 4, and he's careful and cautious. Everything takes encouraging. Sometimes to an exhausting point but it's what I've accepted as life and I just have to do it. I'm thankful he's cautious. I hope that's a conviction he has for life. To examine a situation before jumping head first. And all the mamas say amen! Don't worry there's no trick to getting your kid to do this, my second is lovingly called "bulldozer baby" by us because he just goes for it.
So what does encouragement actually look like?
Daily encouragement for your family to make choices based on good values and beliefs.

Daily encouragement might look like

asking your child 5 million times if they need to potty and helping them achieve actually making it to the toilet.

It might look like bringing them to therapy to help them accomplish something

It might look like spelling words or talks about friends or tears or hugs or cuddles before bed

Encouragement for my husband looks like striving to be a godly wife, knowing he works extra hard so I can stay home, and speaking lovingly and truthfully to him.

Encouragement for others may include something as simple as a phone call or a note. Noticing where someone might need encouragement and meeting them there in the mess is perfect.
I think encouragement can get hard because depending on your relationship the recipient might feel like they are failing at something so you're attempting to save them. Most people, especially women and moms, don't like to ask for help, it's hard and it feels like defeat. But we all reach the point where we need to ask for help.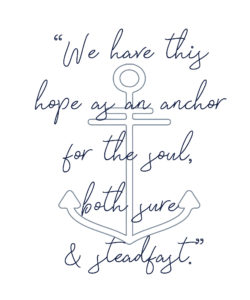 I have more than a few favorite scriptures but my MOST favorite is Hebrews 6:19. "We have this hope as an anchor for the soul, both sure and steadfast."
Steadfast – resolutely or dutifully firm and unwavering.

Hope – a feeling of expectation and desire for a certain thing to happen, a feeling of trust
As a wife, mom, and just in general I want to be steadfast. To be the one that is unwavering. I want to be uplifting and encouraging, to be a place where they know that can come to. Not because I'm the cool mom, because I'll never be and I'm ok with that, but because I'm the safe mom and I'll probably have food too! I really believe that encouraging someone gives them hope. And hope in something can really spur someone along.
I can personally account for how being encouraged by another person, specifically another woman, can bring God into your life. Between my own parents encouraging me, women at church encouraging me to be a better wife and mother, and the friendships I've made that have all shown grace and love…I'm blessed by these relationships and constantly encouraged to be more like Christ because of them.
My little timid Nate. He's not the risk taker. But for some reason he wanted to try out the inflatable slide at the Fall Fest. We just knew that standing in line would be a waste but it wasn't. And what we got was golden. When he slid down the slide he got to the bottom where a sweet lady bent down to help him out and she said "Wow, you were so brave!" She didn't know him. She didn't know that this was a big deal and in the moment she made my son feel like he could conquer the world. And now when he takes a risk and conquers it he still says "mom, I was so brave!"
So I would love to encourage you…
Think about someone who has encouraged you and let them know that it made an impact in your life. Odds are they don't know it and will be encouraged in return that God used them as a tool in your walk.

Think about intentional ways that you can encourage each of your children and husband. The easiest way to do this is to consider their love language and encourage them through that.

Think about a friend that might need some encouragement and walk that out.

Think of simple ways that you can encourage a stranger. Just to have some ideas when things come up.

A mom with a toddler having a meltdown in the grocery store? How could you encourage her?

Meet a new mom and she says something like "sorry I look so rough". What 3-5 words could you say that could encourage her and speak life to her in her day?

Where/how could YOU have needed some encouragement? Do that for someone else.
Titus 2: 3-5 says…
"Older women likewise are to be reverent in behavior, not slanderers or slaves to much wine. They are to teach what is good, and so train the young women to love their husbands and children, to be self-controlled, pure, working at home, kind, and submissive to their own husbands, that the word of God may not be reviled."