It's 4am and the little cries. I decide to just pray that he will go back to sleep on his own. Quiet. YES! But not really, he screams again.
I crawled into bed at 9:30pm hoping to get a great night's sleep. But before I could actually fall asleep I read, set my alarm, scrolled through Instagram, and then chatted with the hubs. So 10pm-4am. Could be much worse. But that was that night. If I added up the nights of interrupted sleep, I'd be depressed. I truly laugh when I think about how young and dumb I was when I thought college was exhausting. Oh to be so naive.
Weary // Feeling or showing tiredness, especially as a result of excessive exertion or lack of sleep
Really? So are there moms out there who aren't weary? Please, teach me your ways.
What are we supposed to do about being weary? I know I'm "showing tiredness". You can see it in my hair, my eyes, and my waist.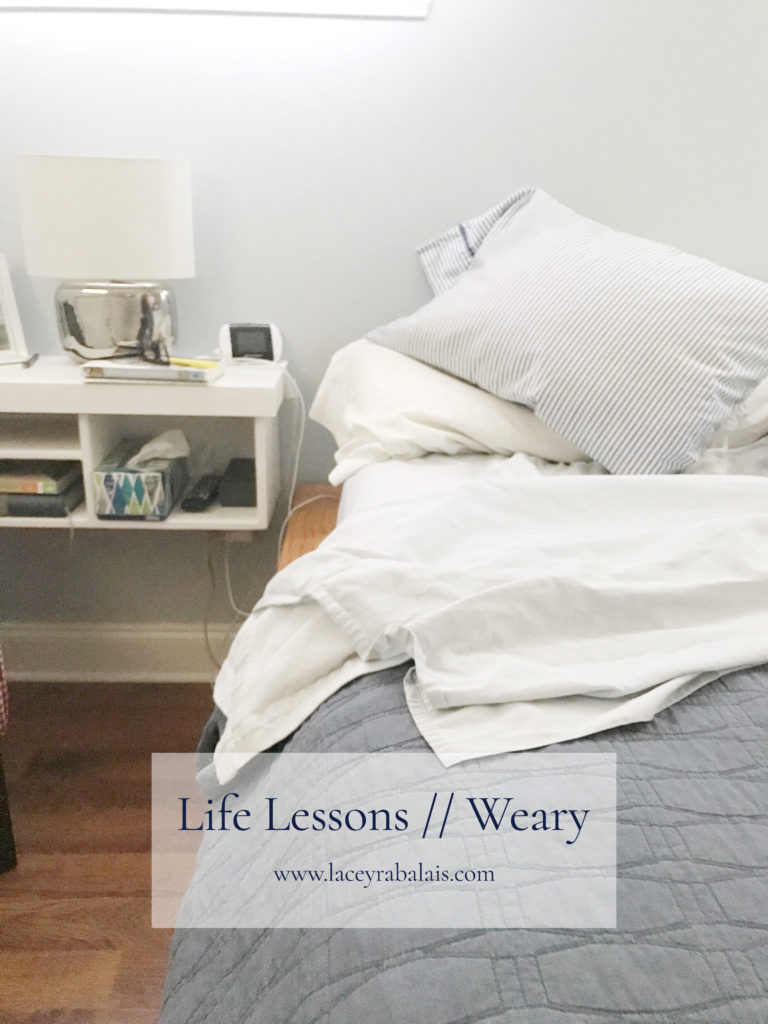 After I defined the word, I moved on to more truth. What does the bible say about weariness?
"And let us not grow weary of doing good, for in due season we will reap, if we do not give up." -Galatians 6:9
Does this mean, don't give up because one day your kids will grow up, your home will be quiet, and you will sleep peacefully?!? I don't know if that's the correct interpretation? But that's not the scripture that was so filled with conviction.
"Consider him who endured from sinners such hostility against himself, so that you may not grow weary or fainthearted." -Hebrews 12:3
I know that the amount of sleep I get is almost completely out of my control. My schedule is not mine. So how can I refuel, fill up, rest, and not give up?
A lot of this goes back to self care. True self care, not just self comfort. Mind, body, soul. These are things that have been hard to prioritize but I'm working on it! How do you refuel? I'd honestly classify myself as an introvert. I love people, can talk to about anyone, but I recharge in the quiet moments.
Motherhood is a lot of things. Fulfilling, happy, challenging, maddening, exhausting, and a lot of times lonely. Loneliness and weariness are where I'm at not. Yes, I am truly never alone, but I feel the same type of lonesomeness as I did when I had a husband deployed. No, I'm not in fear for his safety, but I just don't feel like I can explain my feelings and someone truly understand what I'm saying.
Is this true? Probably not. I know there's plenty of other moms in the world who feel alone. Solidarity in being lonely? Hmmm. I know God has called us to community and I will force myself to do that. Because the lonely feeling gets overwhelming and I just want to crawl back into bed and be alone. What a weirdo!?!?!
So my new favorite quote is something Renee Swoope said "You may be rejected by man, but you are CHOSEN by your MAKER!" That right there is awesome.
Here's to getting rest, refueling as we do best, and trusting that God can help us through anything!