It is fact, that as a mom, we spend less time and money on ourselves and more on our kids. I will say I struggle to spend money on myself so I'll wear the same things until they fall apart. But my kids are clothed and looking cute. I've learned that if I can simplify my needs and streamline things I'm more likely to have the correct items and look decent. I know I have too many shoes but I just can't part with some of the pretty heels that I once wore, before kids and messing up my ankle during pregnancy. Twice.
Below I've listed the shoes that I believe are must haves. Yes I know you probably have those flip flops and even some Crocs, but I'm not counting those. You'll probably also want a pair of boots, but I've learned that boots aren't the easiest to find and there's so many options so that's a major personal choice.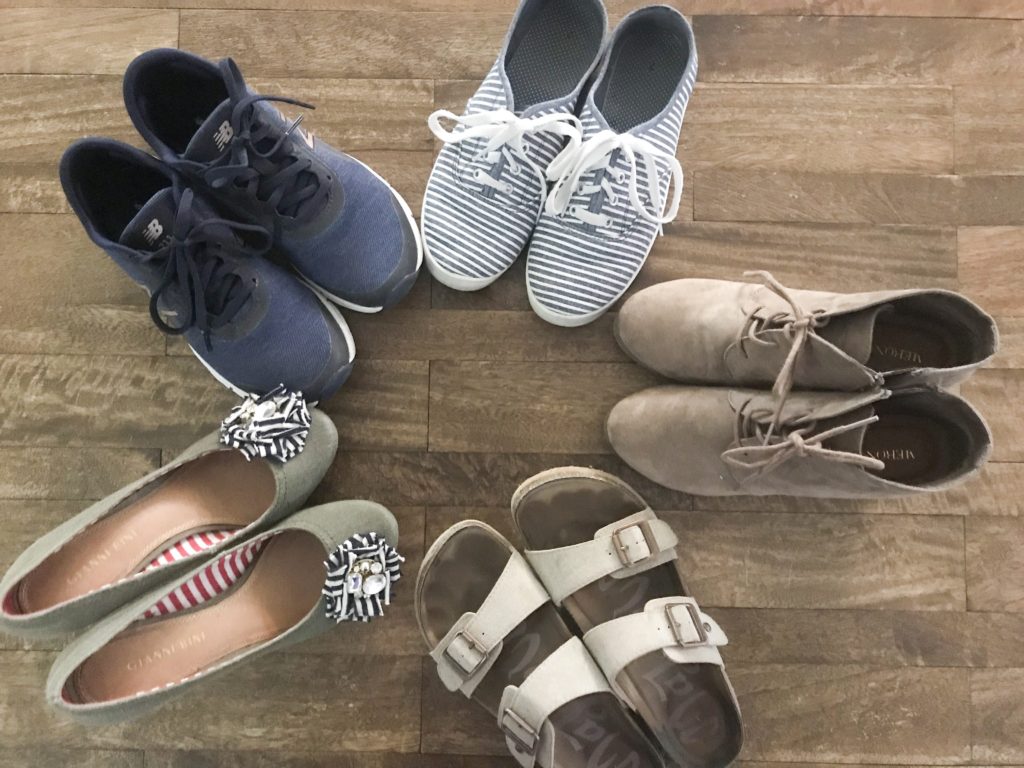 AFFILIATE LINKS USED. FIND THE FULL DISCLOSURE HERE. IF YOU BUY THROUGH THESE LINKS, KNOW WE'RE THANKFUL AND APPRECIATE IT!
Tennis shoes // Whether you're working out, going on a walk, or a playdate at the park you're going to feel better and more comfortable in the right shoes. You don't have to get the most expensive ones but your feet and the rest of your body need and desire good support.
Footbed Sandals // Might not be the style of everyone, but I'm super thankful these are back in style. Comfy and cute. You don't have to fork out all your money on brand names, no worries Target has some great budget friendly ones too.
Slip on sneakers // Seriously, Keds are great. So are Toms. But I'm a lover of budget friendly knock offs from WalMart and Target. These are my go to and I have a few different colors/patterns so they are fun.
Wedges // Chasing kids while looking fashionable, I've messed up my ankles too many time to be stressed with heels. Wedges make like easier, more comfortable, and your calves still look good.
Heels // Not my favorite but you still need a few in your wardrobe, right? Find some with heels that are a little more stable and let's be real ladies, we don't have time for sore feet and blisters. Be realistic when you purchase shoes.