There seems to always be so much to do in December. There's traveling and eating and celebrating and more traveling. As a mom with some anxiety issues I feel like I have two options. 1. Do ALL the things or 2. Do NOTHING. Instead of having to decide on those options, I gave myself another because life is about balance and boundaries and trying to figure those things out.
While prepping my Powersheets and my calendar for this month, I first stopped to pray about it. At the top of the tending list page in the Powersheets there is a blank space for "encouraging words". Normally, I write something catchy or some scripture that I've been leaning into but this month was different. I was lead to write PREPARE HIM ROOM.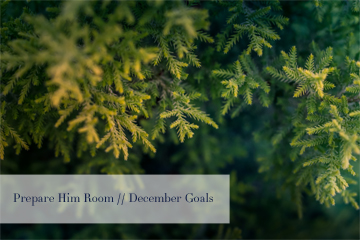 Why? Because I don't want to be running around trying to do everything. We don't need to do 50 activities and see a million things. What we need to do is focus on why we're celebrating. I see Pinterest and there are calendars of activities and I want to do them. But then I immediately feel overwhelmed.
Solution // Find a few things to do. Leave room for celebrating and serving. Focus on Jesus. Celebrate advent.
There are plenty of things on the calendar for us to do. But when looking at the calendar I don't immediately get overwhelmed.
So what's on the goal list?
Meal calendar/plan
Finish work on the fun and awesome collaborations I've got going
Complete my SheReadsTruth Advent Study
Advent Cards with the kids
Family fun once a week
Book countdown
Celebrate!
Everyday // Quiet time, work time, exercise, intentional mom, learn something/teach something. homemaking