I love supporting small businesses, especially when they are owned by amazing people. There's no shortage of those types of places and there are seriously awesome gifts!!! So here we go! Check these out.
Some affiliate links used for your convenience.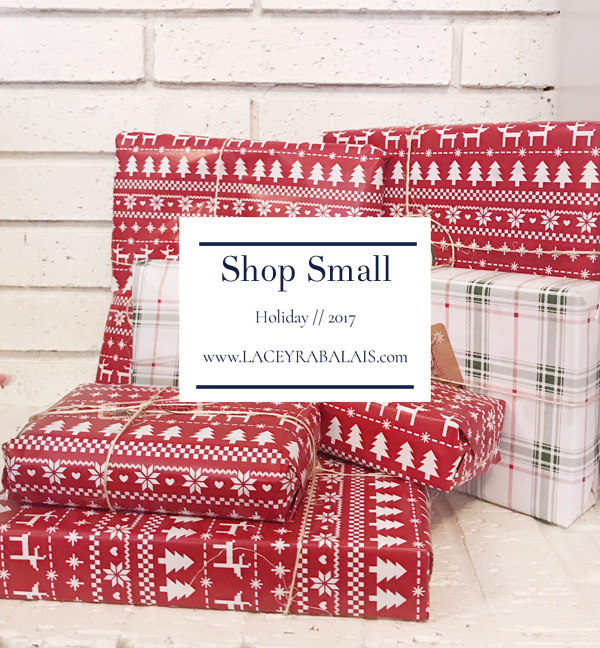 Val Marie Paper // I just ordered the Family Prayer Calendar for myself and as a gift!
Emily Ley // She just launched her new book A Simplified Life but I think almost everything in her shop is 40% off.
Cultivate What Matters // I don't think PowerSheets are on sale but everything else is. Including the Write the Word journals!
Well Watered Woman // Cute journals, shirts, and awesome studies!
Promptly Journals // Are you a mom? Do you know a mom? Get this! I promise it's a wonderful gift.
Solly Baby Wrap // The best carrier for a little one. They are just so perfect for Louisiana heat and snuggly babies.
Jenna Kutcher // She's an awesome lady. Breaking barriers, being encouraging, and rocking it all! If you need photography/social media stuff. She's your girl!
SoSis // Love these girls and the heart behind their business!
Annie Claire Designs // My favorite necklace is created by AC. So thankful for it.
Laura Taylor // There's a blank space in my dining room just perfect for a painting from her. She's gifted and so sweet!
M. Fitz Design // Love her creations!!!!
Grace and Serendipity // Kristin just launched even more amazingness and everything is so beautiful!
The Peaceful Press // I've loved using this for teaching N. Intentional and easy!
Freckled Hen Farmhouse // Personally I'd love just about everything in this shop. And their farm!
The Daily Grace Company // Studies, mugs, encouragement, a beautiful family celebrating life.
Itsy Bitsy Bow Company // If only I had a daughter, I'd have a serious bow problem.
Linwood Co // Local to BR area. This wood work is dreamy.
Red Stick Spice Co // I feel like this is the perfect gift for someone you don't know exactly what they want or they already have everything. Everyone loves spices and rubs!
And obviously Lacey Rabalais Photography! Wink Wink. This mama would love to capture your family!